You have to work like a bee to throw a dreamy wedding party, even though it all seems to be magical on the big day you only will know what a gigantic task it was. We always prioritize the bridal dress, decorations and photo-shoots. But getting done a perfect set of wedding stationary is also a big deal. This is an area which is often abandoned and many do regret after the big day. Unlike the other aspects of your wedding, your wedding stationery can make a statement about you two. So isn't it important to have a close look? Here are all the stationery pieces you will need.
Save the date cards
Before you send your nuptial invitations, you should usually send a save the date card. You have to send this at least six months prior the marriage ceremony. It is okay even though you have not yet fixed the venue, but letting your guests know about the date is a must.
Will you be my bridesmaid cards
You have to ask your lady friends to be your bridesmaid by handing over them a nice "Will you be my bridesmaid?" card. You can take them out on a date and give these cards at least before six months from the nuptial date.
Wedding invites
As now you know the location and every other detail about your wedding, you can send away your wedding invites. If you are planning to throw a separate engagement party, you should include engagement party invites also to your list of stationary.
Invitation inserts
Since you cannot write a lot on the invitation card, you can go for an invitation insert in which you can write the rest. Most of the times reception cards are used for this purpose.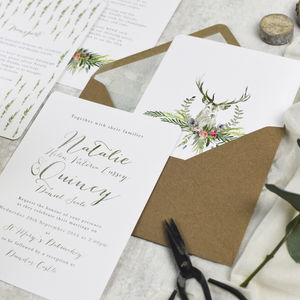 RSVP cards
Include some self-addressed envelopes along with your RSVP cards. Because a mere note on the wedding invitation isn't enough to confirm the attendance of guests. Your life become a lot easier when your invitees send their responses on time.
Envelopes
You have to get your envelopes done as per the design of your wedding invites. Make sure you choose a good paper material as the first impression matters.
Escort and place cards
Escort cards are used to guide your guests to their respective tables. It is optional to have place cards but escort cards and mandatory. Because your guests will be thankful to your at the end of the day.
Menu cards
No matter whether you are serving a set-menu or a buffet styled one, you should let your guests know what they would have. That is why wedding menus should be arranged. Menu cards are life savers as they will help reduce the buffet queue and allow guests to know the menu.
Thank you cards
Finally you should have to think of a nice little thank you card because you must show your gratitude to your guests for showing up for your wedding scarifying their time and efforts.